What are Uncertainty Budgets?
The Best Tool For Performing Uncertainty Analysis
An uncertainty budget is an itemized table of components that contribute to the uncertainty in measurement results. It reveals important information that identifies, quantifies, and characterizes each independent variable. With respect to measurement quality, it is an essential tool typically utilized by physicists, engineers, and metrologists to perform uncertainty analysis. The goal of an uncertainty budget is to effectively calculate measurement uncertainty using a well-organized, structured approach. The benefit is it provides the evaluator a formal record of the analysis process which can be shared with other professionals who can validate the results.
Benefits of Uncertainty Budgets
How Uncertainty Budgets Improve Measurement Quality.
01) Satisfy ISO 17025 requirements.
02) Attain or maintain ISO 17025 accreditation.
03) Quantify or estimate the CMC uncertainty expressed in Scope of Accreditation.
04) Reduce time and effort calculating measurement uncertainty of calibration or test results.
05) Provide objective evidence that uncertainty analysis was performed.
06) Improve quality through evaluation of uncertainty contributors; find greatest contributors and identify where reductions can be made.
07) Increase confidence in decision making; select the right system to accomplish goals.
08) Prevent the occurrence of errors in uncertainty analysis.
09) Reduce measurement risk.
10) Increase customer satisfaction and improve customer service.
Example of an Uncertainty Budget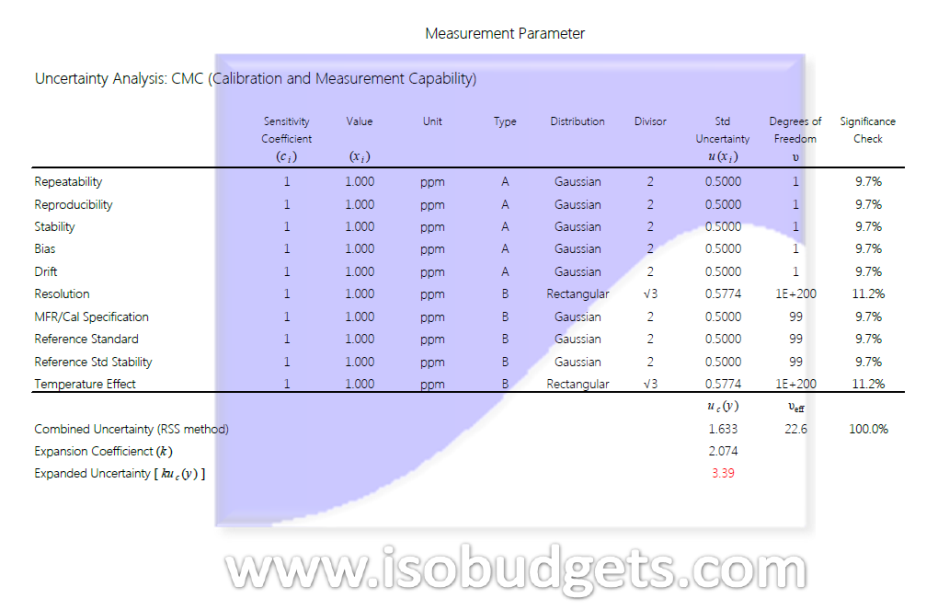 Elements of an Uncertainty Budget
Sources of Uncertainty
Sensitivity Coefficiencts
Quantified Value of Uncertainty
Units of Measure
Types of Uncertainty (A or B)
Probability Distribution
Divisor
Standard Uncertainty
Degrees of Freedom
Significance Check
Combined Uncertainty
Effective Degrees of Freedom
Expansion Coefficient
Expanded Uncertainty
Uncertainty Notes and References
Who Does Uncertainty Budgets?
Who Makes These Reports?
Most laboratories have personnel, such a Metrologist, physicist, or engineer, as members of their technical or quality staff that routinely evaluate their measurement processes for uncertainty. Typically, these personnel are the ones performing the uncertainty analysis and creating uncertainty budgets. Some laboratories are unable to hire and maintain these high-salary personnel. Therefore, they either subcontract their uncertainty analysis to a specialist or send their personnel to training courses and perform the task in-house. There are always pros and cons to either approach. Whichever method is chosen it is always a good idea to elicit external validation and consultation prior to assessments. Furthermore, always approach the respective accreditation body for their policies, requirements, and expectations.
If your organization has any questions or would like a professional to manage their uncertainty budgets, please contact ISOBUDGETS LLC at [email protected]. Our uncertainty budgets are professional, high-quality reports that meet ISO 17025 requirements. We will make sure that the uncertainty budgets that we provide will meet your accreditation body's policies and requirements.